Community Development Programs: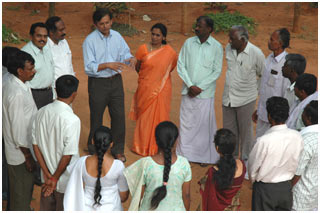 Dr. George addressing the community leaders
Other programs of The George Foundation that have been carried out to promote goodwill and improve the quality of life of the communities in the villages adjacent to Shanti Bhavan include:





Educational support to the neighboring village schools through donations of library books, school bags and slates
Monetary donations to construct library rooms in government schools.
Monetary donations targeting existing government schools for teacher orientation and development.
Assign additional private teachers to complement government teachers, and monitor school performance.
Revival and support of religious and cultural activities through community involvement, and renovation of temples.
Addressing spiritual needs regardless of religious background through revival of ancient village arts and crafts and celebrations of festivals.
Provision of street lighting and construction of a temple at the request of the community.
For a description of the Community Development Plan for 2006-15 ,
click here

An example of the community spiritual activities initiated or assisted by The George Foundation is the recent Chariot Festival in Devarapalli village, attended by thousands of people from the neighboring areas. This festival was both a religious/spiritual and social occasion for the community, revived after two decades with our assistance. For a description and photos You may click here.

Chariot Festival