Pilot study in a Bagalur PHC of Dharmapuri District.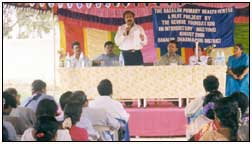 The project at Bagalur government-run PHC is an attempt to demonstrate a "model" PHC where quality level care will be provided and information systems set up using EDPS2000. The goal of this project is to demonstrate a model rural PHC that delivers quality healthcare at reasonable cost.
Services through this project:
The George Foundation has undertaken to "co-manage" the Bagalur PHC to:
Set-up proper infrastructure
Streamline operations
Automate record-keeping
Preliminary diagnosis even in the absence of the doctor
Pro-active measures
Improve overall services
Some of the activities carried out at this PHC include:
Refurbishing the basic infrastructure of the PHC by renovating, repairing and painting the buildings.
Computerised registration of all persons in one block of the PHC area through EDPS2000.
Detailed records of all pregnant women and children below five years.
Refresher training of paramedical staff in reproductive and child health care.
Awareness programs in one sub-centre catering to a population of around 10,000.
Role of EDPS2000 at the PHC:
Maintains patient history/records
Updates each patient visit
Preliminary diagnosis & confirmation
Referral to physician/specialist
Tickler/reminder for pro-active measures
Regional statistics & reporting
Centralized database for trend/pattern detection
Being a backward area and situated on State border, this block tends to be marginalized from the mainstream political interventions. Local panchayat bodies have been set up, but they are not proficient enough at the moment to ensure good governance. Women are poorly represented in the political framework.
There has been no attempt by any government primary health centre to store and manage accurate health data on a permanent basis. Most of the data available is focused on immunization, family planning and a few chronic diseases.
All these issues are bound to increase if unchecked. The vicious cycle of poverty, illiteracy leading to malnutrition and infection, in turn leading to further poverty needs to be broken immediately.
The local communities have been involved in all the projects of The George Foundation right from the planning stage. In this project too, the communities have participated in the pre-planning discussions and needs analysis. They have also contributed towards labour in the development of infrastructure required for this project. Local government bodies such as the panchayat members are actively involved in motivating their communities to utilize the proposed facilities and practice the health messages they receive.
Role of EDPS2000 at PHCs and Baldev Centre: Both Bagalur Primary Health Centre and Baldev Medical & Community Centre have implemented the Early Detection & Prevention System (EDPS2000). EDPS2000, a software system developed by Dr. Abraham George (maintained and enhanced by eMedexOnline LLC) is designed to be part of a new approach to providing quality healthcare to the rural poor in India. It provides early diagnosis of a patient's health status by screening patients and identifying those who need prompt attention by qualified physicians, while recommending treatment for others with minor illnesses.