Baldev Medical & Community Centre: July 2006
The highlights of BMCC's activities are as follows:
1. On the average, around 30 patients visit the hospital each day. During days of any disease outbreak in the villages, patient visits can exceed 50 per day.
2. Our field workers (medical and social) visit several homes in the villages each day and conduct group sessions periodically. Serious cases are asked to visit BMCC.
3. Village clean-up for sanitation (latrines, drainage, etc.) is conducted once a year for each village. This involves the use of our bull-dozer (JCB), managers and village volunteers.
4. Community development activities are now initiated as per the Community Development Plan.
5. Deveerapalli school program is now in full swing. This government school now receives the support of BMCC. We offer 3 primary school teachers, financial assistance to all children from very poor families to cover expenses toward notebooks, uniform, supplies, etc. School latrines are now operational, and roof leaks have been fixed. This program is now being extended to 3 other government schools.
6. General health, eye and ear check-ups have been conducted by our doctor for all children at Deeverapalli school.
7. High protein cereal (porridge) will soon be served to all primary school children at three government schools at mid-morning
(10 am). This preparation contains, raggy, three other grains, peanuts, and jaggery - all cooked for just few minutes.
8. Health education classes are held periodically at BMCC hall for women, especially for those of child-bearing age.
Baldev Medical & Community Centre: July 2002
As of July 2002, the center sees an average of 20-30 patients daily in its outpatient department. Occasionally a patient is kept overnight for observation.
Weekly health awareness programs are held in 11 villages. These programs target women and school children. 3 new villages, Alambadi, Sampangere and Hulimangala, have been added to Baldev coverage.
Community Action Program:
1. Our JCB/bulldozer has been used to clear land around Alur school for a playground.
2. Health checkups of all Sangha women (group) have been conducted.
3. The nutritional status of all children under the age of 12 years has been assessed in 11 villages.
4. A health camp has been conducted in Alsapalli village.

Baldev Medical & Community Centre
Celebrates International Women's Day 8 March 2002
The women of the Self-Help groups of the surrounding villages combined with the staff of Baldev to put up a grand celebration of this occasion. A shamiana was erected and a stage was put up to facilitate special invitees. Dr. Faisca Richer from Canada and Mrs. Maureen Totland from the USA were among the special invitees. The principal of Shanti Bhavan was the chief Guest.
The participants were congratulated on their initiative and enthusiasm. The George Foundation representatives reiterated their desire to work shoulder-to-shoulder with the communities provided the people wanted their help.
The women chief guest shared her personal story with the women to encourage them to work towards their goals. They did not have to accept suffering and despair as their lot in life. The could work towards improving their lives and the lives of their families.
There was a variety entertainment program that featured several village children in song and dance routines. After the entertainment, visitors saw the chart exhibition in the classroom-cum-training hall. The children and women numbering 450 and 150 men have snacks before departing for their homes.
Dr. Nachiket Shankar and his team at Baldev did a noteworthy job of enlisting the support and participation of so many. The celebration was a happy and exciting event for all. The women's pride in their work was there for all to see.
Baldev Medical & Community Centre organized meeting of village leaders in March 2002 to communicate general information about EDPS2000.
Dr. Maya Mascarenhas was present. Dr Faisca Richer has a power point presentation. The response was enthusiastic and positive.
Initiatives were personally handed over to 26 villages by Mrs. Gracy Thomas, our Administrative Manager at the Bagalur PHC.
Inauguration Ceremony: December 30, 2000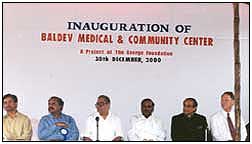 The Baldev Medical & Community Centre building was inaugurated at a simple function organized by community leaders on December 30, 2000. The chief guest for the function was Mr. Ayyadurai, Director of Public Health, Tamil Nadu, and the guests of honour included the other benefactors of this project, Mr. and Mrs. Bijoy George, Mr. Douglas Rose of the Latter Day Saints Charities, and Mr. N. Vaghul, Chairman of ICICI Ltd. At the function, the speakers highlighted the objectives of The George Foundation in setting up this centre, and appealed to the members of the community who were present in large numbers in the audience to work together to improve their health conditions. Dr. Maya Mascarenhas, Director of Health Projects for the foundation, explained the services to be offered by Baldev.