August 2004
India Untouched is a personal account of the experiences of an extraordinary philanthropist of Indian origin, Abraham George , who has devoted his life to working for the poor in South India for the past ten years. The backdrop is the day-to-day lives of a great majority of Indians who live in the villages, mostly untouched by the rapid economic progress that has been occurring in every city across the country since reforms were introduced in 1991. He tells his powerful story candidly and honestly as he seeks solutions that would reduce the hardships faced by hundreds of millions of Indians still living in poverty and social deprivation.

India Untouched is an inspiring work offering many innovative ideas for social and economic reform, born out of one man's vision for change. These ideas have, in a short time, brought about dramatic improvements in the lives of thousands of poor people. In discussing the hurdles he has faced, and by offering alternative solutions, he challenges the premises under which many present government policies are being implemented. His background as a successful entrepreneur, and his advantage as an outsider looking in, and as an insider working within the system, gives him a unique perspective from which to analyze issues with a fresh and unbiased focus.

Having been raised in India and subsequently spent much of his professional life in the West, George has now come full circle, returning to his roots with the knowledge gained from a multicultural upbringing. His attempt in socio-economic reform is documented here in a series of interwoven essays that contradict the generally held assumption that rural poverty in India is beyond redemption. The book addresses several key issues: education, economic development, social justice, healthcare, environment, free press, art and culture, and ethics. George makes the compelling argument and demonstrates through his social work that only by embracing new ideas that are a departure from the traditional ways can the problems of poverty and social inequality be effectively addressed in India .

India cannot go on much longer the way it has been, ignoring the plight of millions of poor people, if peace and tranquility are to prevail. A free and democratic India offers great promise, but only if it can mobilize its human resources to work as one people for the common good. It must turn despair into hope, and promises into reality. The unanswered question is whether India 's leaders and policy-makers can be persuaded by a participatory public to alter priorities, policies and practices to benefit all its citizens, both rich and poor.

About the Author:

Abraham George was a business entrepreneur in the United States of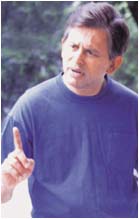 America for over 25 years before he embarked on a number of humanitarian projects in South India . A former artillery officer in the Indian army, he went on to receive a PhD in Business Administration from New York University , and authored three books in international finance. His business career included heading a software company he founded, serving as a Managing Director at a major global investment bank, and consulting for over 100 of the Fortune 500 U.S. companies. Today, he shuttles between Bangalore and New Jersey several times in a year, and spends much of his time directing the activities of The George Foundation in India .

The author can be contacted by email at tgf-admin@tgfworld.org
A compelling account of one man's struggle against a well-entrenched system to overcome the hurdles faced by India 's rural poor. Read the fascinating story of a businessman-turned-philanthropist who has denied himself considerable material comfort in order to devote his energy, wealth and intelligence to others.
Endorsements:
"Dr. Abraham M. George has written an important and moving story about one of the world's most critical issues: the impact on poverty of globalization of markets. His thoughtful, personal focus on rural India has resonance for other similar situations throughout the developing world. If the scourge of poverty is to be remedied, it must first be understood and looked at frankly, with both compassion and sophistication. This book accomplishes that task."
Alex S. Jones,
Director, Shorenstein Center on the Press, Politics and Public Policy,
John F. Kennedy School of Government, Harvard University.
"India Untouched takes the reader on a journey into a world of despair, cruelty, disease, and illiteracy, and shows what an aroused populace can do about them. A remarkable story of what one man can accomplish with vision and determination."
Ralph Nader
Consumer Advocate and Environmentalist.


"I am highly impressed by the idea… I see what a single man's vision can do. I complement Mr. George for his incisive understanding of the (rural) situation."
I. K Gujral
Fmr. Prime Minister of India

"A moving story through self-discovery about bringing differences in the lives of millions residing in rural India through institutions built on the pillars of commitment, integrity, honesty and perseverance. Through his sensitivity and an eye for detailing, the Author reminds the reader about the "unfinished agenda" in the largest democracy even after more than five decades of independence and more than one decade of liberalization. "
Verghese Kurien,
Founder, National Dairy Development Board, and
Father of the "White Revolution" in India,
Anand, Gujarat.
An exceptional story, because it captures – lucidly and honestly – the life, travails and triumphs of an exceptional man. Combining the focus of a former artillery-man with the drive of an entrepreneur and the soul of a philanthropist, Abraham George takes us on a voyage that is as much self-discovery as it is a feast for the intellect. His prognosis is informed and dispassionate, his conclusions inescapable. This is a story that must be read both by those who love India , and by those who wish to understand the country.
Ravindra Kumar,
Editor and Managing Director,
The Statesman, Kolkata.
"A wake up call that India cannot expect to be stable and peaceful if its huge rural population remains impoverished while its urban elite benefits from the economic reforms of the past decade. One can only hope that the powerful exposure and sensible prescriptions of this book will achieve the needed impact."
James F. Hoge, Jr.,
Editor, Foreign Affairs,
Council of Foreign Affairs, New York.
" India Untouched is an expression of love and courage, illuminated with deeply moving examples and human micro details of rural life that give force and color to a stinging macro critique. George has put his money and his morals where his mouth is, offering tested solutions that are persuasive in their reasoning. A great book of conviction."
David Anable,
President, International Center for Journalists,
Washington, D.C.
"An astounding work of great practical significance. Hopefully it will stimulate a fresh dialogue among those who impact public policy in India ."
H.S. Balram,
Editor, The Times of India, Bangalore.

The book has already been released in India and will be released in the United States in January 2005 . The book is available in major bookstores and through online booksellers in India. To place your order click here.