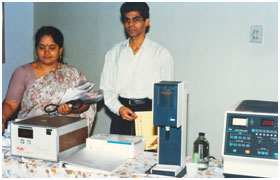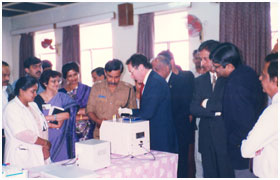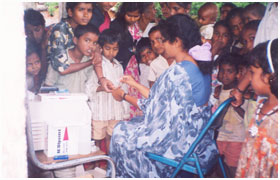 PROJECT LEAD-FREE AND ANEMIA SCREENING IN INDIA
The George Foundation launched in January 1997 a lead and anemia screening program in India (Project Lead-Free). The project was initiated in Bangalore and vicinity, and subsequently expanded to several other major cities across India. Consistent with the Foundation's mission to serve the welfare of children, especially those who are victims of poverty and/or those who suffer from adverse environmental conditions that are beyond their control, Project Lead-Free focused on one of the growing problems that has serious consequences for a generation of India's future work force.

A non-profit charity organization, Friends of Lead-Free Children Inc. (headquarters in New York City), which currently has lead treatment projects in several developing countries (including programs in the Dominican Republic; Jakarta, Indonesia; and in Bangkok, Thailand), assisted The George Foundation in launching the program.

Project Lead-Free was conducted via arrangements with six medical centers in the city of Bangalore (St. John's Medical College and Hospital, Baptist Mission Hospital, Lake Side Medical Center & Hospital, Cantonment X'Ray and Laboratory, KempeGowda Institute of Medical Sciences, and M.S. Ramaiah Medical College) which have clinics at each site. One of the clinics operates a mobile unit to access locations throughout the city, such as schools, industrial areas, etc. The George Foundation provided equipment and supplies, support and coordination in the activities of these clinics including giving materials for educating the public on lead poisoning and anemia, and making arrangements for repairs of equipment. The goal of the project was to test up to 25,000 children, pregnant women, and emergency referrals for lead poisoning. The project also emphasized prevention of lead poisoning for the general population.

Project Lead-Free initially focused on the city of Bangalore and subsequently broadened to five other cities: Madras, Bombay, Delhi, Calcutta, and Hyderabad. Screening was dramatically increased after the first year. The clinics that participated from these cities are: In Mumbai: K.J. Somaiya Medical College, The Bandra Holy Family Hospital Society, Guru Nanak Hospital; in Hyderabad: National Institute of Nutrition; in Delhi: Indira Gandhi E.S.I. Hospital; in Calcutta: R.G. Kar Medical College, Medical College Calcutta, Dr. B.C. Roy Memorial Hospital for Children; in Madras: K.J. Hospital; in Vellore: Christian Medical College.
Objectives
The main objectives of Project Lead-Free are as follows:

To target children between one and six years of age, pregnant women, and emergency referrals from doctors and hospitals for testing and treating elevated levels of lead.
To educate the community on the major health problems associated with elevated lead levels, the paths of lead exposure in their environment, and ways they can protect their families from lead exposure.
To collect hard data on the problem of lead poisoning in India, which was analyzed for developing appropriate responses. The Foundation will present the results of Project Lead-Free at the International Conference to be held after the screening.

The project is expected to have a much wider impact than what the numbers for testing will suggest; in addition to those who directly benefit from the program, there are many more -- relatives, friends and acquaintances of the participants --who will be made aware of the problems of lead pollution and anemia and how these problems can be prevented or treated. The ripple effect of such flow of information together with the education/prevention efforts of the project personnel can change for the better the health of possibly millions! Furthermore, the project should serve as an inspiration for others to launch other public health projects, which in turn could subsequently lead to the enactment of meaningful environmental laws. The data collected during the course of the project will aid in the research endeavors of the medical community. Most importantly, the project will save a whole generation of children whose physical and mental development will otherwise be impaired. This has implications for the country's future development.
Implementation of the Project
The project was initiated in Bangalore and vicinity, and extended to additional cities by the second year. The project comprises of three components: testing, treatment and prevention/education.
A nation's most valuable asset is its children. They are the future workforce and our hope for a better tomorrow. In order to realize their full potential, children need to grow up in an environment that is safe and supportive. Unfortunately, science has proven conclusively that large populations exposed to high levels of lead and/or suffering from chronic anemia can never hope to achieve their full potential. Many will not finish school and those who do are likely to be delayed in all areas of learning. They will live as underachievers in a life of constant struggle.

Lead poisoning is silent and insidious, accumulating in one's body with its full negative impact not realized until much later in life. We need to invest in our children now, before it is too late, and The George Foundation's lead and anemia project will do just that--clear the way for the normal physical and mental development of children. We have a moral obligation to inform the public of the potential health hazards of lead and anemia and to educate them on what they can do themselves to lessen their families' exposure to lead. Project Lead-Free is likely to inspire others to launch other public health projects, which in turn will lead to the enactment and enforcement of meaningful environmental laws.

Admiral O. S. Dawson who was responsible for organizing the screening effort and gaining awareness among government officials and the general public, chaired Project Lead-Free. Dr. T. Venkatesh of St. Johns Medical College and Hospital was responsible for overseeing the laboratory work for screening and analysis. The project was conceived and developed by Dr. George with the technical and organizational assistance of Mr. Steve Null from Friends of Lead-Free, Inc., and co-ordinated with the help of Dr. Lekha Keister. Bharat Electronics and Air India provided assistance in repairs and transprotation, respectively. The Foundation is grateful to all clinics and others that voluntarily participated in the project.