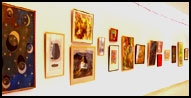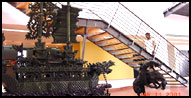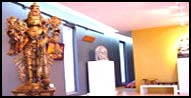 Mission Statement
The Tillany Fine Arts Museum & Gallery, a non-profit project of The George Foundation, aims to empower poor and emerging artists and artisans in India. The foundation recognizes the historic necessity of preserving the different forms of earth, material, spaces and patterns of construction as seen by traditional artisans. Simultaneously, a new language of form and perspective has to emerge and evolve from the traditional art rooted in thousands of years of history and culture, to address contemporary sensibilities and the modern global economy. Hence, Tillany will facilitate the organic interaction between traditional artisans and contemporary artists. The foundation will also work towards preserving a multiplicity of artistic identities that are threatened by instruments of an emerging global monoculture.
Until recently, traditional Indian craft was respected throughout the world for its fine sensibility and perfection, and also for its relationship to the elements of nature. The beautifully interwoven relationship between humankind and nature found expression not only in crafts, but also in everyday community living. Floors, walls, doors, gates, and even the face, palm and hand of the human body were decorated artistically. Today, the survival of traditional crafts is seriously threatened, and it is on the edge of extinction. Artisans have abandoned their centuries-old traditions and wealth of knowledge and skills to join the unskilled labour force. Many have been unable to express their artistic talents as a consequence of poverty and misery. But few have kept their traditions alive by their belief that their skill is a God-given gift and that it is their duty to hand it down to generations to come. The Tillany Fine Arts Museum & Gallery will work towards halting the slipping away of local traditions of art into the oblivion of history.
The emergence of contemporary artists is part and parcel of the modern sensibility and economy. Attempts to merge traditional crafts and contemporary art have not materialized; both disciplines exist as isolated entities. Both the intelligentsia and contemporary artists and their patrons look down upon the craft tradition as inferior. Contemporary artists can learn from the perspective of traditional artisans, while traditional artisans can find innovative progression for their skills in contemporary living by exposure to contemporary art forms. The Tillany project intends to insert an element of continuity and modernity into the traditional processes of art, and facilitate their interaction with contemporary concerns and sensibilities. Simultaneously, modernity will realize its roots.
The Tillany Fine Arts Museum & Gallery will address this need by assisting artists and artisans who possess exceptional talent and ability but lack the means for furthering their creative expression. The foundation will provide support in the form of materials and tools, both indigenous and modern, and through exposure to contemporary art forms by workshops and videos conducted by reputed, established Indian and international artists and artisans. These and other facilities will be provided in the artists' colony adjoining the museum, and in their own homes and workplaces. Outstanding works of art chosen by a committee of respected and renowned artists will be displayed in the museum and subsequently put up for auction or sale. The foundation will also connect the Tillany museum to other museums and galleries in India and abroad to reach discerning collectors and connoisseurs. Tillany will assist in marketing their works of art to enable the artist or artisan gain recognition in her or his field, and to gain the revenue needed to support the continuation of such outstanding work.