What is EDPS2000?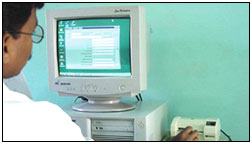 Early Detection & Prevention System 2000 (EDPS2000) is designed to enable early detection of diseases and nutritional deficiencies among the rural population. EDPS2000 is a computer software that consists of a database of disease characteristics and conditions, and the logic to diagnose symptoms.
Why is early detection and prevention necessary?
It is well accepted that early detection is the key to preventing subsequent complications and further deterioration in the condition of the patient. In addition to avoiding unnecessary suffering of the patient, the costs associated with early detection and prevention are far less than those related to treating advanced stages of disease.
Why is EDPS2000 needed?
Presently, health care needs of rural communities are served by Primary Health Centers (PHC). Often, these centers are not able to deal with early detection of diseases, due to a lack of multi-disciplinary medical expertise and laboratory facilities. Patients usually do not visit PHCs in the early stages of their diseases, while health care providers are forced to focus on only seriously ill patients due to the volume of cases. Even in the absence of the doctor, EDPS2000 provides early diagnosis of patient health status, and indicates whether further investigation by a physician is warranted. EDPS2000 screens patients who need prompt attention by a qualified physician.
How does EDPS2000 work?
The database of usually prevalent diseases and their symptoms are already initialized in EDPS2000. This is sourced from medical literature by specialists in different medical fields. The diagnostic logic used is based on established medical protocols and practices.
The patient's description of symptoms and the subsequent diagnostic questions prompted by EDPS2000 lead the system to decide whether blood, urine, stool, or any other laboratory tests are required. The system has built-in intelligence to decide which cases merit such investigations.

Based on the information gathered from the above process during the patient's current visit and the medical history of the patient already stored in the computer, EDPS2000 makes an expert diagnosis of the patient's condition.
EDPS2000 maintains an exhaustive database of patient medical history and treatment visits to the health clinic. It also allows gathering of statistics about diseases, deaths, vaccinations and inoculations, pregnancies, contagious diseases, and other valuable information.
Who operates EDPS2000?
EDPS2000 is designed to be very user- and culture-friendly so that a community service worker can operate it with minimal initial training.
What equipment is needed?
EDPS2000 operates on a simple PC with the required hard-disk storage space, and a printer.
How is EDPS2000 available?
EDPS2000 was developed by a team of computer specialists and doctors, both in the USA and India over a three-year period under the auspices of The George Foundation (TGF). EDPS2000 software will be made available to selected health care centers free of charge upon completion of beta testing in the year 2000. The goal is to implement the system in as many primary health centres as possible in developing countries where there is a shortage of qualified medical personnel available and willing to work. For further updates, see the section "News".
Role of EDPS2000 at PHCs and Baldev Centre:
Both Bagalur Primary Health Centre and Baldev Medical & Community Centre have implemented the Early Detection & Prevention System (EDPS2000). EDPS2000, a software system developed by Dr. Abraham George (maintained and enhanced by eMedexOnline LLC) is designed to be part of a new approach to providing quality healthcare to the rural poor in India. It provides early diagnosis of a patient's health status by screening patients and identifying those who need prompt attention by qualified physicians, while recommending treatment for others with minor illnesses.
It provides a probable diagnosis of disease conditions based on the complaints narrated by the patient, along with the results of a few simple procedures (such as pulse, temperature and blood pressure) and the patient's medical history. The software does not aim to give a confirmatory diagnosis in most cases, but only a probable diagnosis. Several conditions suggest laboratory tests that can be conducted on the spot, which in turn may support a confirmatory diagnosis. It functions as a first line of intervention whereby the patient, equipped with a probable diagnosis, can then go to the next level, like referral to a specialist, when required. Several minor or common illnesses will be treated at this level on instructions given by the software.
The diseases covered by EDPS2000 are based on the common disease patterns seen in South India, although we have also added many diseases more common in other parts of the world. This list of approximately 300 diseases presently covered by the software (over 90% of the cases in rural India) is given in Appendix A. A team of doctors and systems specialists has developed the program over the past three years.
The EDPS2000 software has been designed to be extremely user friendly. Staff involved in primary health care in remote, rural and backward areas will be able to use it easily. The basic qualifications expected of a person who will use this software are knowledge of basic English, a simple understanding of computers, and a strong motivation and aptitude for primary health care. It does not require someone with a medical degree or formally trained health workers and nurses. Users undergo specific training to operate the software, and also have hands-on training before they use it in the field.
There are two main persons involved in the use of this software: the patient and the interviewer (computer user). The software will prompt the interviewer with the questions to ask. Some basic information such as current height, weight, pulse, and temperature are also entered. The software will continue evaluating the answers and posing new questions until it has narrowed the list of possibilities down to a probable diagnosis or a future course of action. The interviewer is, therefore, passive in this process. This feature has been incorporated by design to minimize the medical knowledge expected of the interviewer. For cases referred to specialists or hospitals, the interviewer and/or an office assistant may be responsible for following up and making sure that the paperwork, diagnosis, and results of lab tests are entered into the computer to maintain a full and up to date medical history.
Because EDPS2000 was created to deal with the problems of rural healthcare, it incorporates many procedures of relevance to all providers of primary care in a rural setting:
Maintains on-line patient history/records
Updates each patient visit and lab results
Provides preliminary diagnosis and/or confirmation
Provides referral to a physician or specialist
Directs the daily workflow at the PHC and the field
Maintains a reminder list for taking pro-active measures, such as shots
Has the capability to provide regional statistics and reporting
Provides information to a centralized database for trend/pattern detection of community health.
EDPS2000 is available as a PC-based system using the Windows operating platform. It has been used on laptops, and is also available in a browser environment. An Internet version could be made available, if required. Other important attributes of EDPS2000 and its use in India that make its application more universal include:
EDPS2000 was designed to exchange information over a LAN, WAN, or the Internet, and it is both feasible and cost-effective to connect EDPS2000 to existing systems for data collection.
The simple English used in EDPS2000 is designed for staff that is likely to be communicating in the local dialect. The system can be easily adapted to other languages.
A unique and powerful aspect of EDPS2000's design is its ability to continually improve itself based on experience. Although the engine of the program requires sophisticated programmers who understand the coding and logic, the medical front-end is written in a proprietary language tailored to be adjusted by doctors with little computer background. In India this process is already occurring, and the results of the testing have improved each month of the beta tests.
The consequence of this feature is that EDPS2000 can "learn," similar to artificial intelligence, but without the programming complexity.
The entire concept of EDPS2000 involves a "holistic" approach to the problem of rural health, emphasizing education and being "culture-friendly".

Pilot study in a Bagalur PHC of Dharmapuri District.
List of Diseases Evaluated by EDPS2000