Improving quality of health care services in PHCs:
Mission:To implement a diagnostic and record keeping system in support of all the activities of PHCs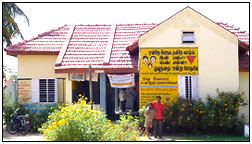 The objective is to improve and enhance the services offered by Primary Health Centers (PHCs) in the rural communities of India and in other developing countries. Our strategy is to use technology to provide effective early medical intervention, deliver expert health care, and minimize the inconvenience caused to patients and health-workers from poor logistics and long travel time. An equally important role of PHCs is to provide health education emphasizing family planning, hygiene, sanitation, and prevention of communicable diseases. A final step in this process will happen through video consulting and examination, a technology we anticipate becoming available in rural areas by year 2010.
The long-term goal of the Indian government and international funding agencies has been to provide health care to rural communities through PHCs. However, even with large funding, these centers have not been successful for a variety of reasons that include lack of decent facilities, equipment for performing even simple laboratory tests, etc. Even more important is a social reality: there just are not enough trained and qualified doctors to adequately serve the entire urban and rural populations of India even if we could provide financial incentives for them to work in rural areas. Since we believe that the dearth of doctors willing to practice in rural areas and their reluctance to travel to, let alone live in, remote areas will continue to exist for a long time to come, we have incorporated this reality into our planning from the start as described in this proposal Our plan, therefore, is to increase the effectiveness of doctors who are willing to work in rural areas by a large factor. This can be accomplished by reducing the need for doctors in the initial screening of patients, and by allocating one physician for every five PHCs. Simultaneously; we plan to make working at PHCs more attractive and satisfying.
The result of non-functioning PHCs has been that, in many cases, diseases are not diagnosed in their early stages nor treated. The rural population has to often travel to urban areas when they can no longer bear the suffering caused by the disease, thus increasing the load on hospitals in urban areas and ending up with serious complications that, in many cases, could have easily been treated at their early stages. The need to rectify this problem has become critical especially given the fact that over 650 million people live in rural areas across the country with poor awareness of health issues. This ignorance, coupled with the increased mobility between rural and urban areas, has led to an explosive increase in the spread of diseases like HIV/AIDS and Hepatitis B and C.
We envisage PHCs functioning as the first level in a hierarchical system of health care facilities. At this primary level, PHCs will play two equally important roles: First, diagnosis of diseases based on symptoms and simple laboratory tests, and their treatment either at the centers or through referral. Second, health education leading to family planning, better hygiene and sanitation, and prevention of communicable diseases, especially sexually transmitted diseases.
The government has shown keen interest in finding private partners to revitalize the PHCs. To this end The George Foundation, in collaboration with the Government of Tamil Nadu, is initiating a pilot project involving up to six PHCs in the Dharamapuri District. The goal is to build on the existing "infrastructure" at these PHCs, make them functional and enhance their capability. The George Foundation will coordinate and manage this proposed project. An initial pilot project has been implemented in the Bagalur PHC of Dharmapuri district.
Process :
The first step is to furbish the existing PHCs (land, building, equipment, and supplies) already set up by the government. We anticipate each PHC to consist of an initial screening room with a computer, an examination room for the doctor, a laboratory for medical tests and supplies, and toilets. The furnishing will be simple, comfortable, and durable.
The most critical infrastructure element is electricity. We propose to use either solar panels or diesel generators (depending on a cost-benefit analysis) connected to batteries for uninterrupted electric power for computers and laboratory equipment. Such units have already been field tested by The George Foundation at its boarding school for economically disadvantaged children, Shanti Bhavan, and will assure the operation of equipment for much of the day even when conventional electric power is unavailable.
Each PHC will have a full time staff consisting of a paramedic individual to perform initial screening with the computer, a trained nurse or physicians' assistant, and a laboratory technician. We anticipate that a qualified medical doctor will be shared between three to five PHCs in a given area where there are no doctors. Training of this staff in the novel technology and in the holistic approach we are proposing will be extensive and continuous, and their performance will be monitored constantly.
In addition to the testing capability of the on-site medical laboratory, a crucial tool for diagnosis will be the computer. A software program called EDPS2000 shall assist the technician in maintaining, in a protected and confidential manner, the medical history of all patients, in suggesting tests to perform, and to evaluate possible causes based on the symptoms displayed or the description given by the patient. We anticipate that the majority of cases will be handled at the level of PHCs, thus drastically cutting down the burden placed on hospitals and doctors. A brief description of the EDPS2000 software is given in the section entitled Projects.
Patients visiting PHCs will also be provided health education by the staff through posters and through audiovisual demonstrations. Providing information and help with family planning, and awareness on communicable diseases, will be a key role of the staff. Community programs for which we shall form collaborations with Non-Governmental Agencies (NGOs) and social workers will supplement these activities.
At present we envisage each PHC to be an isolated unit. All software updates and sharing of information would have to be uploaded/downloaded periodically by a person traveling from center to center. Soon each PHC will communicate with the doctor equipped with a "Palm Computer" via wireless and the Internet, when necessary. Over a three-year time frame we propose to connect the computers at different PHCs through standard telephone and/or cell phone link. A central facility will then be able to collect and update the data from all PHCs within its jurisdiction, and perform pattern detection and epidemiological analysis, thereby predicting epidemics and exposing widespread health problems in their early stages. In addition to simplifying the uploading/downloading of data onto the central computer, this enhancement will allow on-line access to specialists via e-mail, further reducing patient's travel time and cost and the load on urban health care facilities.
As a final step, we anticipate enhancing the diagnostic capability of PHCs through video consultations wherein the patient (through the PHC) will access a physician (and even a specialist) via a two-way video camera and screen. We anticipate that this technology and the required transmission rate using cellular connections will become a reality in rural India in 5-10 years.