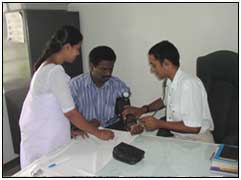 Dr.Nachiket Shanker with patient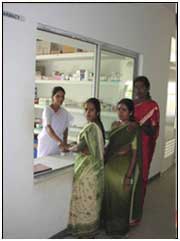 Sister Sheela at pharmacy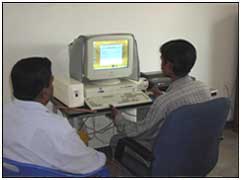 EDPS 2000 in operation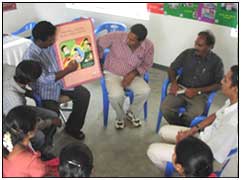 Community health awarness programme
BALDEV MEDICAL AND COMMUNITY CENTRE
Services:
The centre has been operational from October 2001 and offers the following services.
Awareness programs:

Mass level, small group and individual awareness programs are held both at the health centre and in the villages to improve the knowledge of and change behaviors of the community to adopt healthy lifestyles. Special emphasis will be given to topics such as Nutrition, Maternal and Child Health, Early Childhood Stimulation, Reproductive tract infections , HIV/AIDS and STD prevention, and Environmental Sanitation.

Community Organization:

It is accepted in the developmental field that the only way to achieve sustainable progress is through working with the community right from the onset of any program. With this in mind, one of the main strategies by which we are implementing our programs is through forming and strengthening community based organizations. Self help groups, and local level management committees have been formed. They will assist us in monitoring and managing the various programs in health, education, drinking water and environmental sanitation.

Health Care Services:

The Baldev Medical and Community Centre is equipped to provide round the clock primary health care services. These include basic out-patient, in-patient, emergency, preventive and diagnostic services to the neighboring population.

Baldev offers close monitoring of pregnant women and small children, assuring safe delivery and proper child development.

Health Management Information System:

A special software package, called EDPS2000 (Early Detection and Prevention System), developed by The George Foundation, and enhanced by eMedexOnline LLC, is being used to maintain a comprehensive database of the total serving population. This system has the following capabilities:

Computerized medical records of serving population.
Diagnosis and treatment options of commonly occurring diseases.
Monitoring systems to predict and track disease outbreaks and epidemics.
Comprehensive health information system for monitoring overall health status.
Special reporting of all maternal and child health data of serving population.
Epidemiological data for research purposes.

Special MCH and Specialist Services:

In addition to the routine health care provided at the Centre, special clinics to cater to pregnant women, infants and children are periodically held. Mobile services will be provided to remote villages to ensure that all pregnant women and children receive essential care.

Multi-specialty clinics are held on a rotation basis at fixed intervals where visiting specialists provide their expertise to the local community. The specialties include Obstetrics and Gynecology, Pediatrics, Dermatology, Eye, ENT and Dentistry.

The entire population (70% as of June 2005) takes deworming tabelets provided by us every 6 months. We also offer Vitamin A to children below 8 years; Calcium, iron and folic acid tabelets are given to young women, and high-protein powder to all those who are malnutritioned.
Training Programs:

Training of community level volunteers, traditional birth attendants, anganwadi and balwadi workers and other members of the community is part of the strategy to empower the community with the knowledge and skills to improve their health care and status. Baldev Centre has the facility to conduct training programs for around 30 persons at a time.

Functional Literacy of Women:

Another strategy to improve the status of women is through functional literacy classes for women and adolescent girls who haul dropped out of school. Local teachers are recruited and classes are conducted at the Baldev Centre.

Home Based Income Generation Activities:

In an attempt to improve the economic status of women, various training programs on home based income generation activities will be conducted at Baldev Centre. Some of the programs already identified, based on community requests, are pickle making, tailoring, knitting, small scale farming using special seeds and low cost technology etc. Trainers from reputed organizations will be invited to conduct this training program. Interested recruits from the community will be sent for training. The local development committees and the training institutes, in collaboration with The George Foundation, will follow up marketing of their products. This initiative is in the planning stage.

Environmental Sanitation Programs:

There is a great need to improve the drinking water and sanitation facilities available in the project area. Projects such as providing safe drinking water through bore wells, hygienic hand pump installations, regular chlorination of wells and tanks, etc are taken up on a need-based assessment. The sanitation programs include building sanitary toilets, improving drainage facilities, and encouraging hygienic garbage disposal. Baldev Center has helped several villages in constructing latrines. Pits with stagnant water are being closed.